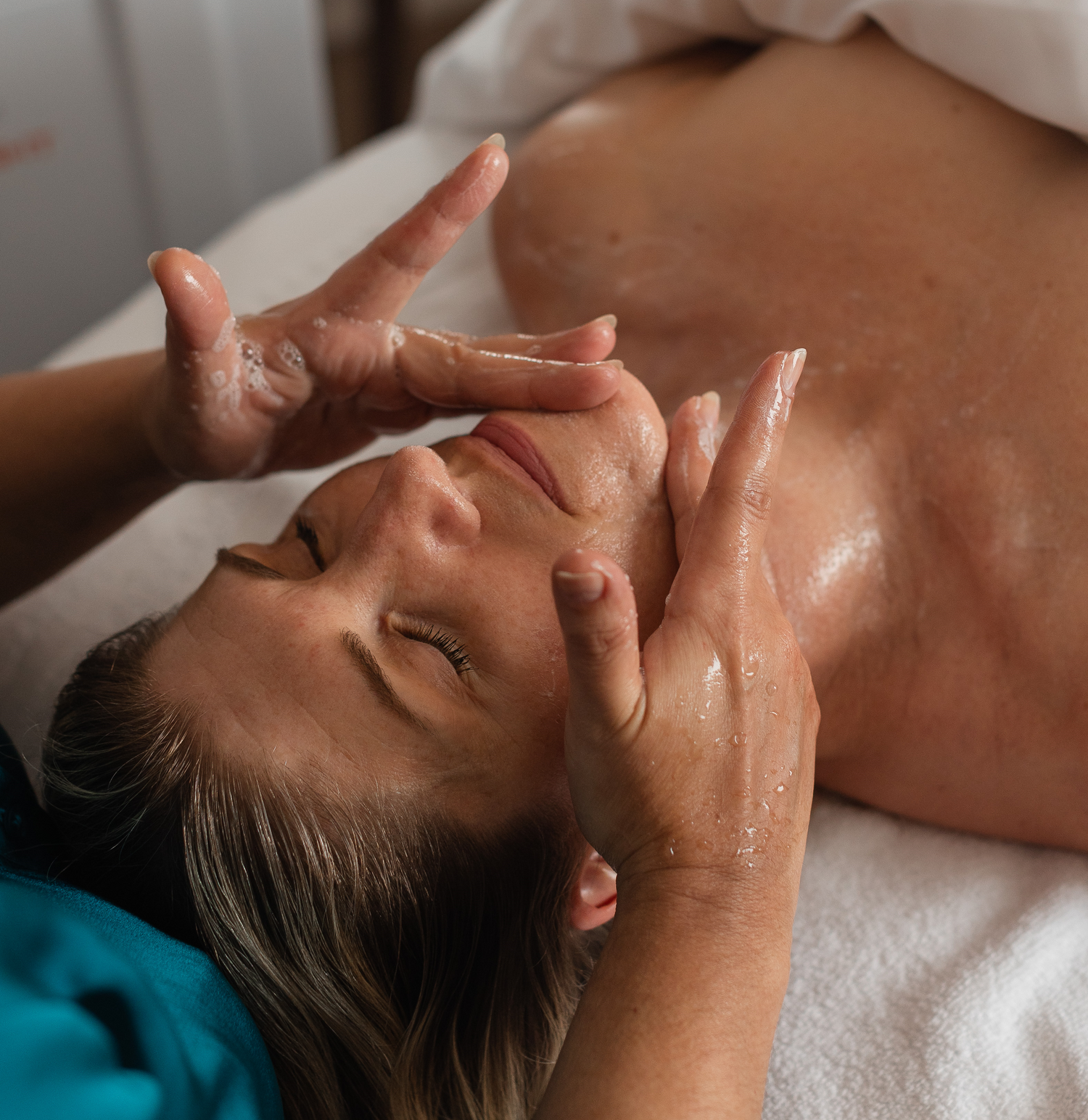 Local to Vienna, VA?
We believe that spa services should inspire you, not put you at risk and that philosophy is embedded in everything we do.
Industry leading safety standards. Next-level nail care. Transformative skincare treatments. Hyper-realistic permanent make-up. All delivered in a ultra-clean, warm and inviting spa retreat. We can't wait to see you!
BOOK NOW
Spa Services
Facials

Our philosophy is simple - we tailor skincare treatments that are hyper-focused on empowering your skin's own ability to heal, repair and regenerate, thereby producing visible and long lasting results.

Our approach is multidisciplinary – after a comprehensive consultation and thorough skin analysis, our highly skilled and trained skincare professionals combine clean and clinically formulated products with the most effective non-invasive technologies and timeless techniques to deliver truly high-touch and high-tech skincare treatments. Clients "glow-home" with a meticulously crafted and results-driven treatment plan, at-home regimen and maintenance plan.

Sesen Signature

A wonderful introductory treatment, tailored to improve hydration, firmness and skin texture. A custom combination of highly concentrated, clinical strength products are used to reveal a more visibly radiant and healthy complexion. 75 min/$160

Sesen Specific

A completely focused treatment, tailored to address specific skin concerns such as sensitivity, pigmentation, acne or environmental damage. These conditions cannot be entirely resolved in one treatment; dedicated home care and regular follow up is necessary. Treatments may employ a variety of modalities such as peels, microdermabrasion, dermaplaning, oxygen therapy and/or LED light therapy. 75 min/$195

Sesen Bespoke

Often considered a 'complete workout for the skin', this treatment utilizes six state-of-the-art skincare technologies – microdermabrasion, lymphatic drainage, cryo-therapeutic oxygen spray, ultrasound, LED light therapy and microcurrent – together to produce a visibly tighter, sculpted and radiant glow. 90 min/$310

Sesen Specialty

Nano-Technology Rejuvenation

A non-invasive treatment, using a handheld device that exfoliates (creating space between the brick and mortar layer of dead epidermal cells), while infusing potent potions that can now penetrate and absorb more deeply. 75 min/$200

Lift & Firm

aka "the natural face lift", this treatment combines the latest microcurrent technology and LED light therapy to tone, lift, firm and 'exercise' facial muscles to reveal a dramatically more youthful appearance. Results are cumulative and can be sustained with regular at-home microcurrent use, supplemented with monthly professional treatments. 75 min/$235

Collagen Induction Therapy

aka microneedling, this non-invasive treatment, uses a handheld device to create microscopic channels via a cross link, circular or stamping motion to allow for optimal product absorption and to stimulate the skin's own natural repair response to produce new collagen. Includes LED session.             75 min/$295

Enhancements to Any Facial Treatment

Cupping

The application of soft silicone cups on the face, at various points, to create gentle suction.. This increases oxygenated blood flow to the immediate area, resulting in plumper, healthier & glowing skin. $30

Eye Contour Lift Patch

The application of a targeted eye patch works instantly to visibly reduce the appearance of puffiness, dark circles, sagging and signs of fatigue. $20

Nano-Infusion Eye Treatment

A non-invasive enhancement service that is safely performed over the eyebrows, entire eye area (including eye lids) to stimulate hair regrowth, lift and smooth lines and reduce dark circles and puffiness. $65

Nano-Infusion Lip Treatment

A non-invasive enhancement service that provides a slight plumping effect and also allows for better absorption of collagen producing ingredients directly to the lips. $50

Maintenance

ACNE FOCUS - a bi-weekly session to cleanse, exfoliate, extract and treat. Includes LED light therapy. 60 min/$125

DERMAPLANE FOCUS - cleanse, a gentle enzyme exfoliant, dermaplane procedure, tone and SPF application. 60 min/$135
Brows, Lashes & Waxing

Brow Design - A must for the first-time Sesen brow waxing client (or a client who needs more than a simple maintenance appointment). Brows are measured, mapped and prepped for shaping. Precision trimming, micro-tweezing and waxing produces a precise and entirely individualized brow shape. The service is completed with the application of brow products to set the shape and create a flawless finish (includes a quick tutorial for at-home maintenance).

Brow Maintenance - Perfect for the returning Sesen waxing client for the proper and routine maintenance of the brow shape.

Tint vs Henna - Both produce outstanding results - naturally colored, full brows. Henna is derived from plants, making it a natural hair dye alternative that is activated with rose water. Brow tint is a vegetable based dye mixed with peroxide for activation. Both are custom blended to create a natural, enhanced brow.

Brow Lamination - A process that straightens even the most stubborn hair to create the look of added volume and fullness. Results can last up to 6 weeks with proper aftercare.

Lash Lifting - A technique that boosts and lifts your own natural lashes to create longer looking lashes. Results can last up to 6 weeks with proper pre and post care.

Before & After Best Practices

For optimal results, avoid tweezing, waxing or trimming prior to your appointment.
Discontinue use of Renova, Differin, Retin-A, Accutane or other harsh topical medications/skincare products and refrain from any intense facial treatments prior to and immediately after waxing. Disclose any recent product use and/or treatments.
Avoid prolonged sun exposure, abrasive products on treated areas, saunas and steam rooms for at least 48 hours afterwards. Lash lifting clients must avoid eye makeup or water for at least 48 hours to ensure the lift sets.
Inform your Artist of any sensitivities, prior irritations or allergies as it relates to waxing or cosmetic products/procedures

Price List

Brow Design                                $35
Brow Maintenance                           $27
Design + Lip                                 $45
Maintenance + Lip                           $37
Design + Tint                                $63
Maintenance + Tint                          $55

Design + Henna                           $78

Maintenance + Henna                     $70

Brow Lamination                          $85
Lash Lift                                          $80
Brow Tint                                      $30

Brow Henna                                 $45

Lash Tint                                         $35
Brow & Lash Tint                          $55
Lash Lift & Tint                              $105
Lip or Chin                                   $15
Bikini                                              $48
Full Face                                      $45
Brazilian                                         $75
Back or Chest                              $58
Underarm                                       $28
Lower Leg                                    $48
Half arm                                         $38
Upper Leg                                    $60
Full arm                                          $48
Full leg                                         $88
Full leg w/bikini                              $98
Mani & Pedi

NEW SERVICE!

Ultimate Pedicure - We completely revamped our Intensive Callus Treatment and combined it with our Signature service to create what we're calling the Ultimate Pedicure. This is THE solution for those clients who suffer from excessive dry skin, corns, calluses, cracks and fissures on the heels - conditions that a traditional foot file simply can't effectively address. Our new and improved Intensive Callus Treatment is a 4-step process that combines the use of an e-file, several exfoliating pedicure bits AND a hydrating mask and finishing product. The result - feet that have been thoroughly (and expertly) exfoliated and nourished. The before and after pics are just astonishing. $79

Never Basic - Perfect for those who are short on time or require minimal maintenance. Includes: Soak, trim, shape, cuticle detailing, massage, scented hot towel wrap and polish application. $25 mani / $39 pedi

Exfoliate - Everything in the Never Basic + a luxurious exfoliating sugar scrub that's handcrafted in-house in small batches (to ensure freshness!). Scents are seasonally updated. $28 mani / $45 pedi

Sesen Signature - By far, our most popular mani/pedi! Everything in the Exfoliate + a hydrating unscented mask of melted shea butter, jojoba, sustainably farmed palm oil and other essential oils (free of paraffin, petroleum, synthetic fragrances and dyes). $33 mani / $50 pedi

Gel Polish Manicure - We utilize a dry, electric file method for superior cuticle detailing and longer lasting gel manicure. We also incorporate a hydrating sugar scrub for exfoliation. $55

Anti-Aging Manicure - we call it a "facial for the hands". This manicure treatment applies clinically proven skincare techniques (brightening peel, filler serum and LED light therapy) to combat the visible signs of aging. We highly recommend this treatment in a series for optimal results. $45/treatment, $122 for 3 treatments (10% savings), $225 for 6 treatments (buy 5, get 1 free)

Foot Fetish Pedicure - includes everything in the Exfoliate + a relaxing foot massage that incorporates some reflexology movements (not to be mistaken for a full reflexology session). $48 pedi

On the Rocks Pedicure - includes everything in the Never Basic + a relaxing foot massage that incorporates hot stones. $48 pedi

Soak & Float - you asked and we listened! For those of you who don't need a pedicure and simply want to enjoy a luxurious foot soak and massage. $35 - 30 min

 

Elevate your mani or pedi by choosing these add-on options:

| | |
| --- | --- |
|  HANDS | FEET |
| Exfoliating Sugar Scrub $3 | Exfoliating Sugar Scrub $7 |
| Hydrating Oil Masque $5 | Hydrating Oil Masque $5 |
| Brightening Peel $7 | Massage w/Hot Stones $8 |
| Anti-Aging Serum $7 | Intensive Callus Treatment $30 |
| LED Light Therapy $6 | Extended Massage $10 |
| Extended Massage $10 | Gel Polish Application $30 |
| IBX Nail Strengthener $10 | French Polish $10 |
| Gel Polish Application $30 | |
| French Polish $15 | |

 

*Product removal - to remove gel polish, hard gel, PolyGel, acrylic or dip powder - basically, if it's NOT regular nail polish that can be simply removed  with acetone and Sesen didn't apply the product for you (but you need us to remove it). $20

*Polish change - removes existing polish (if any), buff & the application of new polish (does not including filing, shaping and/or cuticle detailing). $15 (hands) / $20 (toes)
Cosmetic Tattoo

 

Cosmetic Tattooing (also known as micropigmentation, permanent cosmetics, semi permanent makeup) is the process of implanting pigment into the papillary dermis for aesthetic purposes. Advances in tools, technology, techniques, pigment stability and formulation (in the hands of a highly skilled and trained artist) produces natural, enhanced or glamorous looks that heal and retain the correct pigment shades.

Eyebrows $650
Eyeliner $450

*Pricing includes initial treatment and touch up session.

Which Brow is Right for You?

There are many "styles" of cosmetic tattooing for eyebrows, but we specialize in microblading, microshading (aka hybrid or combo) and ombre powder brows. Which style is right for you is both a personal style preference AND a matter of which technique will result in an ideal outcome (based on your skin type).

Microblading is the process of manually depositing pigment, via a specialized microblading tool - a fine, sterile, disposable blade. The key word is "manual" - natural, "hair-like" strokes are manually created. The strokes are usually applied right alongside natural brow hair and are almost impossible to discern. This style is ideal for a client who seeks a very natural look or simply to refine and define natural eyebrows that are already relatively full. Generally, microblading strokes tend to heal less crisp on excessively oily skin types.

Microshading (aka hybrid or combo) starts with microblading strokes (usually at the head of the brow, but can also be applied to gap areas or throughout to fill in all over) and is followed by shading (either manually or with a machine). This procedure achieves both the natural hair-like strokes, but has the added benefit of shading to add depth and dimension.

Ombre Powder is a shading technique that uses a tattoo machine. Unlike microblading, Ombre Powder results in a powdery make up look (not hair-like strokes). The brow tale is darker and fades into a light pixelated front (hence the name "ombre").

We realize this is a big decision, so let us help you understand the options and the procedure specifics. We always recommend a complimentary consultation to review the options and discuss pre- and post-care requirements.
Paramedical Pedicure

What is a Paramedical Pedicure?

Paramedical is defined as relating to services and professions that supplement and support medical work, but does not cross into specific medical care. The nail industry is buzzing about something called a "medi pedi" (aka medical pedicure). While the term rhymes and is catchy, we believe it is misleading. A nail technician's scope of practice does not allow the performance of medical services - in ANY state.

However, nail technicians who have been properly trained in advanced foot and nail care can provide safe and effective services that far exceed the results of a basic pedicure. These advanced techniques do not fall under medical care, but are rather, specialized, cosmetic and non-invasive foot care that aims to provide instant and long-term comfort. In other words, a Paramedical Pedicure is hyper-focused on addressing non-medical foot and nail concerns in an effort to provide essential foot care for healthy feet.

The Sesen Spa Paramedical Pedicure is a completely customized and advanced service that includes:

Consultation, thorough foot evaluation & home care recommendation
Brief soak to deodorize & soften skin
Trim & file nails (including thick nail debridement & involuted/ingrown nail mitigation, if necessary)
Cuticle detailing utilizing a safe e-file technique
Thorough deep cleaning of nail folds & sidewalls to remove buildup
4-step corn & callus reduction (not removal!) for smoother skin
Hydrating & exfoliating sugar scrub
Foot & lower leg massage
Application of ultra-hydrating foot balm
Application of nail polish (optional)

$90 (up to 75 min)

Thick Nail Debridement

Nails can become thick for a variety of reasons - poor/reduced circulation, injuries, repetitive trauma, etc. - causing pain and discomfort. Nail debridement reduces the thickness (done over a series of pedicures). Not only does this result in a smoother, more natural nail appearance, it effects less pressure on the nail bed (which, in turn, reduces discomfort and pain).

Included in the Paramedical Pedicure; $10 add-on to any other pedicure service

Corn & Callus Reduction

Corns and calluses are thick, hardened skin that develops over time as a way for the skin to protect itself against repeated friction and pressure. Our unique 4-step Intensive Callus Treatment works to safely reduce corns/calluses, while also hydrating and nourishing the skin in order to reduce discomfort.

Included in the Paramedical Pedicure; $30 add-on to any other pedicure service

Ingrown/Involuted Nail Mitigation

When ingrown (corner or side of a toenail grows towards the sidewall) or involuted (nail curls under itself) toenails occur, they can cause pain, inflammation and swelling. Our mitigation process works to catch the nail BEFORE it has punctured the surrounding soft tissue and requires medical intervention. We precisely trim the nail to ensure that the nail (after trimming) sits parallel to the sidewall or lays flat on the nail bed and that no sharp angles or shards remain.

Included in the Paramedical Pedicure; $20 add-on to any other pedicure service

Ingrown/Involute Nail Brace

This non-surgical, corrective service helps to reduce the curvature of a nail. A plastic brace is applied to the base of the nail plate and as the nail grows out, it gently (and unnoticeably) lifts the corners of the nail.

$30 add-on to any pedicure service

Toenail Reconstruction

Common among our athletes - the toenail either partially or entirely falls off due to repetitive trauma or injury. Our process uses a revolutionary gel (that is especially formulated for this purpose) to restore and reconstruct a natural looking toenail.

$40 add-on to any pedicure service

 
Massage

Massage sessions are offered in 60, 75 and 90 minute sessions. By that, we mean you are receiving hands-on therapeutic work for the entire session time.

Swedish - a restorative massage that works to relieve sore muscles, improve circulation and promote relaxation. Perfect for those newer to massage therapy. $100 / $120 / $140

Deep Tissue - a more intensive session to relieve pain, discomfort, soreness and tension with deeper pressure either all over or in specific areas. $105 / $128 / $150

Haawm - meaning "aromatic" in Thai, fragrant blends of essential oils are used during session to reduce stress and promote relaxation - not suitable for pregnant or nursing clients. $105 / $128 / $145

Cupping (add-on) - a healing technique rooted in ancient alternative health practices. Cups are strategically placed on the skin, at various points on the body, to create suction. It's the perfect way to target problematic areas to increase circulation and promote healing. $40

 
Spa Details & FAQs
Appointments & Late Arrivals

Appointment times are especially reserved for you. Please be prompt so you may enjoy the complete treatment. Arriving late may require that your treatment be abbreviated with no reduction in the service price. As a courtesy, we make every effort to remind our clients of their scheduled appointment time(s).

We will do our best to accommodate even the most spontaneous service request, however, we do recommend making appointments in advance. Appointments must be reserved with a credit card.
Special Needs or Requests

Prior to any service, please inform us of any special medical conditions, allergies or medications, as there may be contraindications to some services. We reserve the right to make changes to our services, products and/or pricing at any time and without advance notice.
Cancellations

Should you need to cancel your appointment, we kindly ask that you provide at least a 24-hour advance notice so that we may fill the requests of others. Special requirement may apply for group bookings.

Cancellations after the 24-hour advance notice period and/or no-shows will incur a cancellation fee valued at the full service price.
Gratuities

Tipping is always left to your discretion. Unless noted, gift certificates do not include gratuities.

Unfortunately, we cannot add gratuities to credit card payments. Rather, we prefer using cash, Venmo, Zelle or PayPal.
Atmosphere

We strive to provide a relaxing environment for the comfort of all guests. As such, our spa is a smoke and cell phone free environment.

For safety and serenity purposes, children under the age of 15 are not permitted in the spa unless they are receiving a service and are accompanied by a parent.

Parental consent is required for anyone under the age of 18 prior to receiving a service.
Return Policy

You may return any unused, unopened and undamaged product within 30 days of purchase, documented by a receipt.

To ensure your complete satisfaction prior to purchase, we will provide samples when available.